Ultimate guide for Barkbox super chewer
What is Barkbox super chewer?
Super Chewer BarkBox is a monthly themed dog subscription box service for the active or strong chewer.
It goes by a number of names, including BARK Super Chewer, Super Chewer BarkBox, and just plain Super Chewer.
Also Read: 5 Best Dog Playpens Indoor
They'll give you two durable toys, two sizable bags of snacks, and two robust chews each month, all of which are centered on a different theme.
This membership is designed for dogs who like to trash and chew on their toys.
But if your dog is a typical chewer, the standard BarkBox should work perfectly.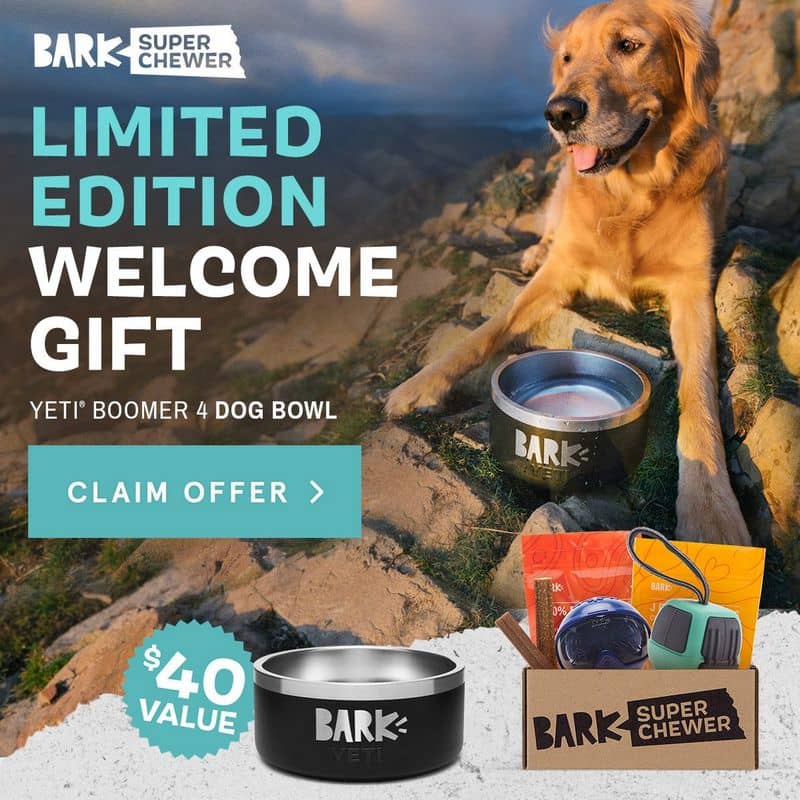 What Materials Are Used to Make the Toys?
The Super Chewer toys have no inner fluff and are made of more durable materials like natural rubber and nylon.
Their parent firm, BARK, creates each of their toys, and their own dogs test each one before it is released.
Super Chewer makes it clear that while the toys are supposed to be more durable, they are not unbreakable.
They produce a large range of toys with various levels of toughness to accommodate various dog breeds and power levels.
Also Read: Best Orthopedic Chewy Dog Beds
The toys are made to tolerate harder chewing and play, even if they aren't designed to stay forever.
Because of their lenient replacement policy, Super Chewer will exchange toys with no questions asked and no required documents.


Can My super chewer Barkbox Be Customized?
By getting in touch with customer care, you can modify your box to include items that your dog enjoys or remove ones that they don't.
You can contact Super Chewer with your issues since they place a high priority on providing excellent customer service.
For example, if the box has monthly too many toys, they'll let you receive a box every other month by contacting them after you put your purchase


Difference Between BarkBox and Super Chewer
The same firm, BARK, produces both Super Chewer and BarkBox.
Because of the enjoyable themes of toys, gifts, and chews, SuperChewer is extremely similar to BarkBox.
Super Chewer, however, provides tougher toys in addition to an extra bag of chews.
It also costs a bit more each month than BarkBox.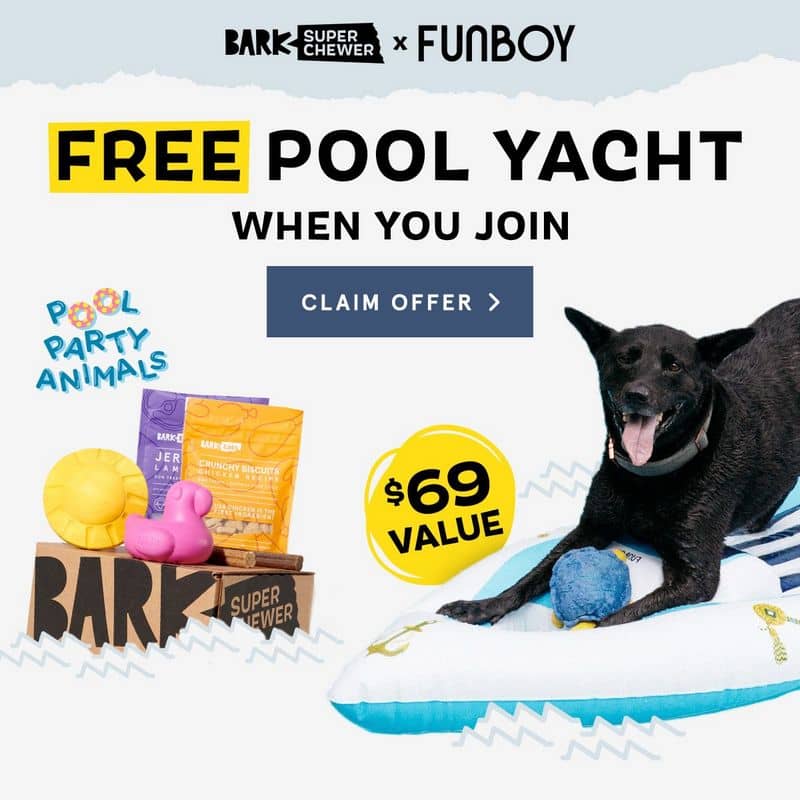 What Are a Few Super Chewer Advantages and Disadvantages?
The following are a few benefits:
FREE upgrade to twice as many toys and snacks
They will double the number of toys and snacks in your first box, and make each additional package just for them.
Every month, toys, snacks, and chews will be delivered straight to your door.
Their toys are specially made and unavailable elsewhere.
Durability: The toys you get will be more durable than those included in typical dog subscription boxes.
Also Read: Tracking your Dog with a Garmin Dog Collar
 Although you cannot select the precise contents of the box, you can specify the quantity of each sort of item and your preferred component list.
Exceptional customer service
Super Chewer and BarkBox both provide exceptional customer service. They are very responsive, keep an eye on internet evaluations, and give consumers prompt responses and answers.
100% Satisfaction Guarantee
If something is incorrect, they work hard to make everything right. They'll change out the toys.
The following are some disadvantages:
You Could Need Fewer Toys
The number of toys chews, and treats your dog needs each month will vary depending on the breed.
Before your subscription renews, you must cancel. Just keep in mind to cancel your online account beforehand.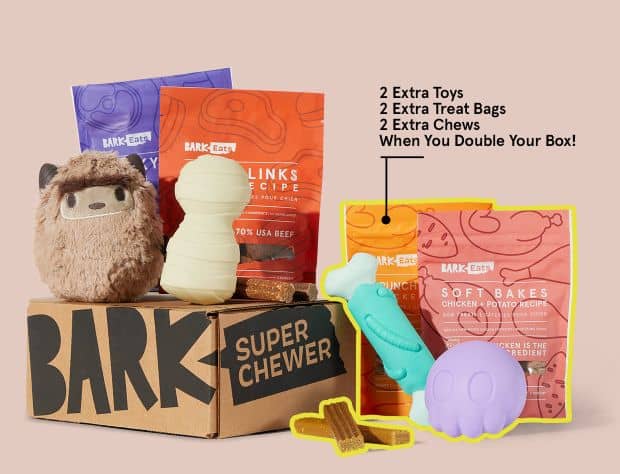 Discount Possibilities of super chewer Barkbox
BARK provides several options for product giveaways and discounts. The company is known for combining expensive goods with first subscription purchases, including dog beds, dog clothing, and other entertaining and practical pet items.
You can take part in BARK's loyalty scheme if you currently subscribe. You will get a special code that you can give to relatives and friends, and for each purchase made using that code, you will earn a $20 BarkShop credit.
Discounts are also offered to members of the army and veterans. Additionally, Bark super chewer occasionally gives current customers special discounts and promotions.

When Does Super Chewer Ship?
They estimate that it will take 2-3 business days to prepare for shipment for new clients in the 48 continental U.S. states, followed by an additional 2-8 business days for the package to arrive.
They estimate that it will take 2-3 business days to prepare for delivery outside of the contiguous United States, followed by another 4–12 business days for the package to arrive.
Super Chewer typically ships around the 15th of every month after the initial box.
Within the contiguous United States, shipping is free; outside, it costs $8.
Also Read: 5 best Medicated Dog Shampoo for Yeast infection and Itchy skin
What Are Reviews from Customers?
Overall, buyers' online reviews of Super Chewer are highly favorable (and their customer service). On the Better Business Bureau and other review websites, I have read hundreds of reviews.
The variety of monthly boxes with unique themes and the high quality and durability of the toys attract owners and their pets.
The BARK crew appears to be keeping an eye on user feedback online based on how soon any unfavorable comments are addressed.
For instance, some toys do become damaged, but if that happens, they would replace them at no cost. There is no doubt that this company values its reputation.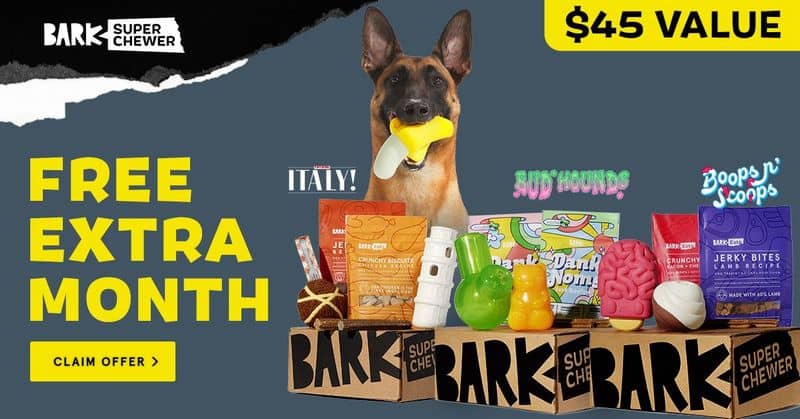 FAQ'S
What comes in super chewer Barkbox?
A: Every box contains two strong toys.
They develop their dog toys for exceptional durability and play style variation since no dog toy is unbreakable.
2 full-size treats bags
Adaptable for allergy and dietary needs, and prepared to power your dog's upcoming playtime.
2 Mushroom chews
The ideal shape for chewing, chomping, and eating. Definitely going to make people drool a lot.
Also Read: 5 best Medicated Dog Shampoo for Yeast infection and Itchy skin
How to cancel super chewer Barkbox?
A: BARK's cancellation policy is rather strict. There are no refunds available for multi-month subscriptions. Even if you cancel before the last month of your membership, all boxes will still be mailed to you.
Additionally, BARK does not accept any box returns. If you order individual toys from BarkShop, you must return them unused and with the tags still attached
How much does Barkbox super chewer cost?
A: The monthly plan is $45 for a Super Chewer package.
$35 per Super Chewer box for a six-month membership.
Super Chewer boxes cost $29 per for a 12-month membership.
For an additional $9 per month, you can add the Extra Toy Club to your membership and give your dog an extra toy in each box.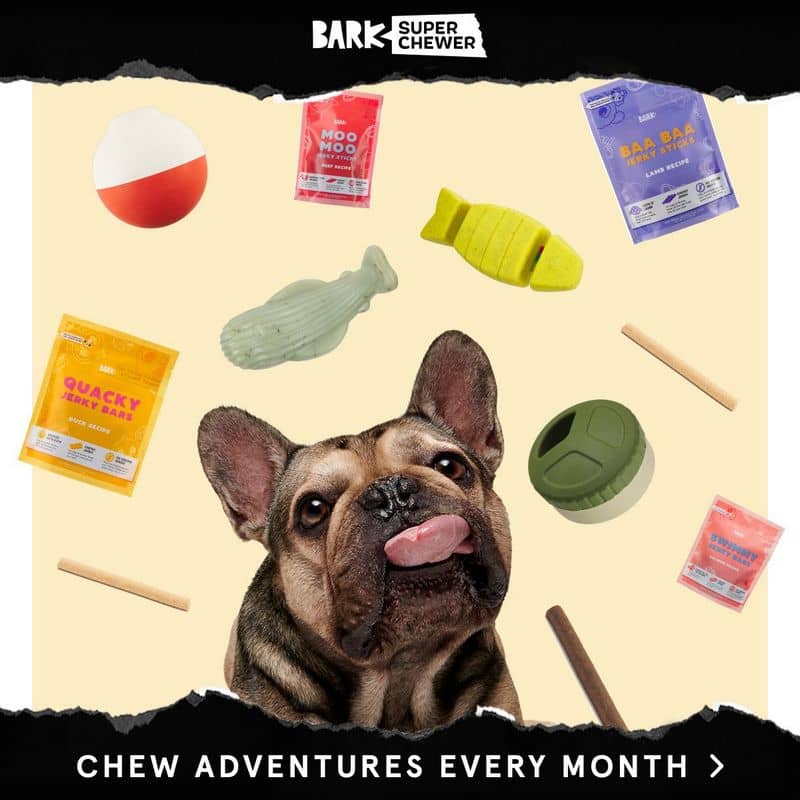 Conclusion
Super Chewer BarkBox enjoys a positive reputation all over. They put a lot of work into creating their toys and their monthly themes.
According to what I've read online, these toys can occasionally still be damaged. If such is the case, they will replace the toy at no charge.
The Super Chewer box is suited for bigger dogs and powerful chewers. You would have to choose to get a package that includes both ordinary BarkBox toys and Super Chewer toys if your dogs are more curious and enjoy various textures.
Even if the treats were a little below average, Super Chewer is still an excellent value because you still get high-quality, unusual toys and you can always choose a toys-only box. You can always start with a standard BarkBox and make modifications based on how long the toys survive if you're hesitant about the Super Chewer box.