Just like any other animal, dogs feel sweaty after performing some actions outside whether it be playing with a ball or a training session. Shockingly, sweating is only a small part of their process to cool themselves down, you can also use Waterproof Dog Bed to make their body cool. They mostly rely on panting and vasodilation to regulate their internal body temperature.

 However, this is dangerous because it might result in heat stroke and is insufficient to cool down dogs. According to Dr. Klein heat stroke is a major consequence that all dog owners should be aware of, especially those who have a breed of dog that has a short nose and flat faces, such as a Pug, Boxer, Bulldog, Boston Terrier, or French bulldog.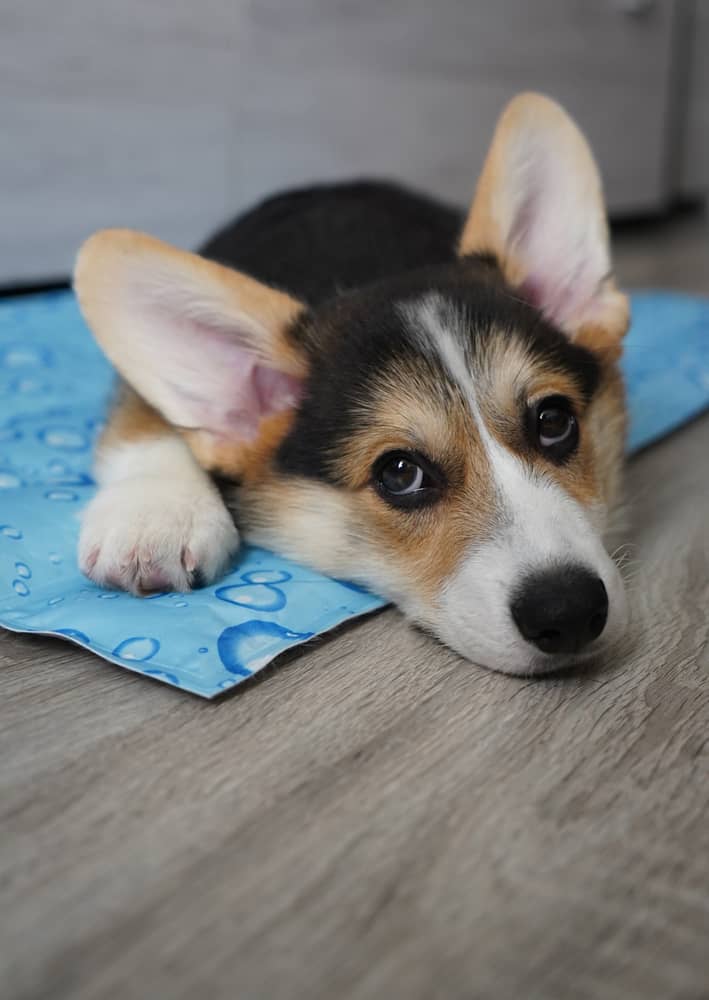 Additionally, dogs with dark coats, obesity, and a history of heat stroke are more susceptible to the condition. Given how rapidly dogs become hot and perspire, utilizing cooling mats to keep them cool and fresh is the ideal approach. These mats are made especially for dogs to keep them cool and snug on hot, sunny days.

These come in a variety of shapes and sizes, as well as prices. Standard mats that are filled with water or gel are well-known for daily use since they keep your dog partner at peace for several hours. These are often filled with either water or other materials like polyacrylamide and alginic acid.

Also Check: Top 5 Slow Feeder Dog Bowls
 They have non-toxic cooling qualities when combined which makes them work like a gem. A gel mat's qualities and ingredients should be carefully evaluated before purchasing.

Water cooling mats are typically expensive items, but your dog can easily lie on them. They simply contain water that needs to be frozen like an ice pack. However, it's quite risky because the mat's extremely low temperature could shock your pet.
Henceforth, the safety of your pet should be your utmost priority. Electric cooling mats are still another sort of cooling mat that are available, however they typically cool by being turned on. It is safer than harmful gel beds, but over time, it may cost more because your electricity bill will go up. Nevertheless, the majority of them are cozy and soft, ensuring the comfort of your four-legged buddies.

Furthermore, there is no need to be concerned if you have canine companions like the French Mastiff, Newfoundland, English Mastiffs, and Saint Bernard. Large cooling mats are designed especially for these dogs. They may easily lay both indoors and outside, getting relaxed.

Even when playing outside, dogs rapidly become too hot, so they begin to dig mud to cool down, making a small area for them to do so. They can infect your home with bacteria and viruses by lounging around in muddy regions. 

They can be given an elevated surface that can be rapidly cleaned and inspected to prevent this. You won't have to fill mud or any other holes again, which will save you time and money. This might assist you in keeping your dog secure within your home.

Specifications Waterproof Dog Bed

List of best waterproof dog bed products

Due to its waterbed cushion, a FlexiFreeze Ice Sheet, and a thick layer of insulation, the Cooler Dogs hydro cooling mat helps your pet stay cool for extended periods, especially those who are sensitive to heat. This creates a long-lasting cooling solution.
 Since it is water-based and contains no hazardous gel or chemicals, safety standards for your pet are maintained. Unexpectedly, even though each mat is designed to fit small- to medium-sized dogs, it features snaps on three sides that allow you to join numerous mats for larger canines. So even if you have large-sized dogs you don't need to worry as this is the solution mentioned above.
Pros :
Cover is easily washable in the machine.
Additional cooler refills can be bought to obtain extended cooling.
It's easy to assemble 
It's chew-proof and more durable.
Cons :
Comfort is limited 
It can give an immediate shock if the pet lays down on a freezing cold mat.
It doesn't keep cool for long as ice melts quickly in summers.

 Hugs pet products offer a cushioned cooling pad that, in an intriguing twist, is activated    by the weight of your pet and provides cooling for up to three hours. Because it is portable and lightweight, you can take it with you on walks and outings and can quickly spread out the mat without any hassle, ensuring your dog's comfort.
It is available in a range of sizes, from extra large (which is advised for usage with dogs weighing 51–80 lbs) to small, accommodating all breeds of your pet.
Pros :
Contains non toxic gel ensuring your pet's safety.
Recharges automatically after 15-20 mins of no use.
It's made of puncture resistant material and requires no electricity.
Cons :
Not durable for a longer time period.


This is a mat that can be conveniently held and folded during travel or a picnic and is offered by the Arf Pets store, making it the ideal match. Given its size, 80-pound dogs are the prime candidates for it. It is built of non-toxic materials and requires very little maintenance by using wipes to clean it, acquiring very little energy.

The revolutionary cool gel interior of the secure, durable nylon cushion will calm and relax your dogs for a longer time span. It is a true minimal maintenance alternative for the home, the kennel, the yard, the automobile, and more because it is a self-charging pad that requires no water, refrigeration, batteries, or energy. 

Pros :
Out of all of the above this one provides the best, 3 hours of continuous comfort.
Helps in providing multipurpose care.
It's safe for your pets as it's health and environment conscious.
Orthopedic memory foam by Pet Fusions is offered in a variety of sizes and hues. On Amazon, it is offered for less money with free prime shipping. It is soft and pleasant due to its cotton and polyester content, which lowers joint pain and the risk of arthritis.
 When compared to other beds, these green recycled bolsters will keep your pet healthy and happy for a longer period. Additionally, it features a water- and tear-resistant cover, so no matter how fiercely your dog chews on the fabric of the bed, you won't be dissatisfied with your purchase.

Pros:
This mat comes with a 3 year warranty.
It's water resistant.
It has two zipper compartments providing more space.

Cons:
If dog accidents happen, it will not be 100 percent waterproof and the smell of urine will stay there for long.


Buying guide

Size 
Prior to purchasing a cooling mat for your dog, it is important to take into account the breed, size, and dimensions of your dog pad. As was already mentioned, cooling mats come in a variety of sizes, making it difficult for you to choose one. As a result, it is advised that you carefully examine the product before making a purchase.

Also Check: Tracking your Dog with a Garmin Dog Collar
Material
Second, the materials that the bed is made of also have a big impact on the choice of bed you make for your pet. There are mats available with gel, hydro cooling, and an auto-recharging system. You should think about purchasing the one that best serves your needs.

For example, if you have a breed of dog that is sensitive to overheating or small puppies that don't heat up as quickly as other dogs, choosing the right one will be simpler. Moreover, when selecting a bed, comfort should always come first.

You should look at the fabric of the item to determine whether it is made of cotton, polyester, nylon, or machine-washable velvet, as these materials give off a softer, cozier vibe and allow paw prints to be removed with ease. The ideal bedding for your pets is one made up of natural fibers as opposed to synthetic fibers.

Age 
 Dogs age just like humans do, and as they become older, so do their comfort levels change. The bed they slept in when they were 1 or 2 years old won't be something they adore now. They may currently experience joint pain or difficulty in moving.

Therefore, purchasing an orthopedic bed in this circumstance will be the ideal choice if you have an older dog or a dog with health issues. Sleeping becomes incredibly challenging when you're in pain or suffering. Thus regarding older dogs, a bed that can support their weight and gives them comfort is excellent.

Location of the bed
 This might not seem like a significant consideration, but believe me, it plays a significant influence in determining the finest kind of dog bed. The type of bed that should be purchased depends on where your dog sleeps.

A thicker bed is a better choice if the bed will be on the floor. But if your dog prefers to sleep in a crate, you should buy a crate pad. It's perfect for dogs who enjoy spending time in kennels; puppies typically prefer it because it's safer for them to sleep in an enclosed space.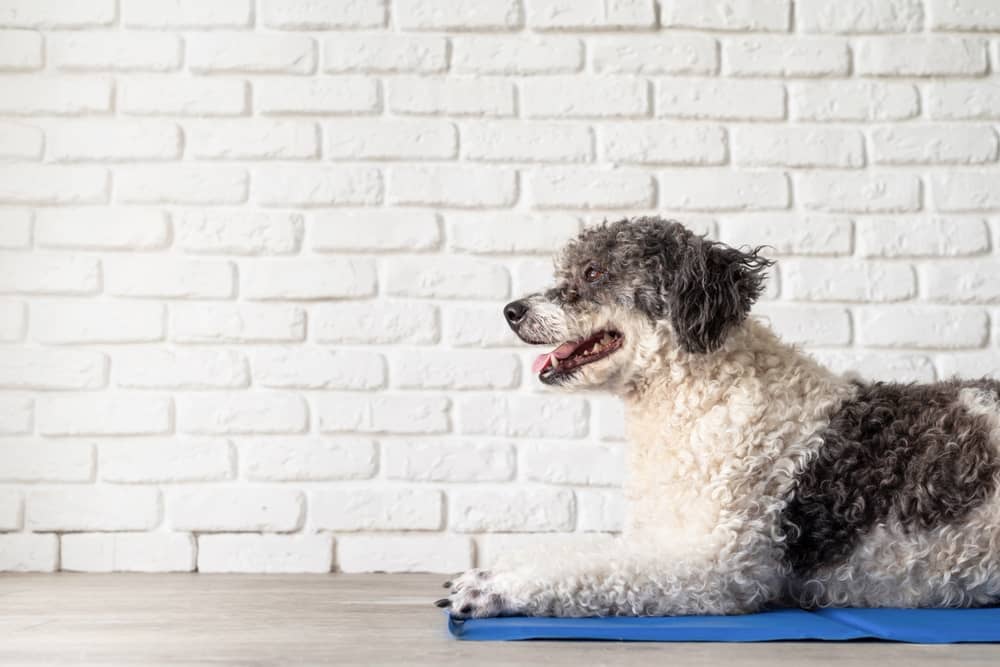 FAQ
What is the best Waterproof Dog Bed for dogs?
There isn't a single, correct response, but the elements described above should be taken into account while choosing a cooling mat. Overall, the greatest mat is the one that is comfortable, long-lasting, low-maintenance, and composed of non-toxic materials.

The orthopedic bed is the best option if your pet dog or cat suffers from joint pain or any other health condition. Otherwise, gel-filled or electrically powered dog beds are equally good.

How soft are the dog beds?
Which kind of dog bed you are purchasing will determine this. If you get products made of cotton or polyester, they are very soft and cuddly, keeping your canines warm. However, since they are made of a thick fabric that will soon make your pet feel heated, the nylon and velvet ones may not be the ideal ones during the summertime.

Also Check: Best Orthopedic Chewy Dog Beds
How to keep the dog bed clean?
 If you have numerous dogs, you should frequently clean them with a cleaning brush or a hover. If you just have one dog, though, you should alternate the days that you clean it. When they become dirty, they should be carefully washed and then air dried. It's important to wash them more frequently in the winter than in the summer because it gets dirtier.

 How much will a dog bed cost me?
 This depends on how much you are willing to spend on your dog. These can cost as little as $15 to $500. Usually, electrically heated dog beds are expensive, causing you a minimum of 100$, depending on the model and brand the price will increase respectively.

Conclusion
All of the cooling mats mentioned above are of high quality, made of soft and comfortable fabric. They also cater to various dog breeds and sizes, so finding the perfect match should be simple. This machine's washable and chew-proof covers are generally easy to maintain so there is no need to be concerned about their durability.